Betting on virtual sports is an increasingly popular phenomenon all over the world. Maybe not yet as popular as other sports where it is possible to use Football Index Referral Code to help you, but still, it is on the rise. The use of modern technology can bring closer some of the less attractive sports to younger generations, and introduce them to mainstream events and bookmaking. Thus, it may be one of the most suitable alternatives for disciplines such as cycling. 
We all know that the annual schedule is not exactly crowded with cycling events. Bookmakers are not so crazy about them as well. But imagine having the opportunity to watch velodrome track races every day? It doesn't have to be held just for the Olympics or World Championship any more. Virtual cycling can bring such excitement and increase interest in placing bets on bike races.
What is Betting on Virtual Cycling?
Virtual Cycling is a computer-generated game that simulates track cycling race settled in a virtual velodrome. The graphics are so perfect, almost like you are watching the real race.
The game is designed according to the authentic rules and customs of track cycling in real life. So, each rider is given certain odds before the race, based on their chances of winning. As usual, bookmakers are getting their part, which is around five percent. Users are placing their bets online.
How To Place a Bet?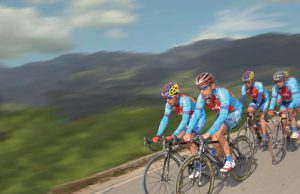 Betting is very simple, with several options on how to place a bet. For start, you need to learn the following terms: Win, Each Way, Forecast, and Tricast.

Depending on the computer game, the races may be slightly different, but they generally consist of two or three laps involving six to nine competitors. The race usually takes about a minute.

You can choose one of the racers to place a bet on their win, or the second option — each way win that can bring you some profit even if the rider you picked finish the race as the vice-champion.

With much more risk in stake, you can try to predict the first two or three places, which brings you to the forecast or tricast bets.
Why Is Virtual Cycling Betting So Great?
With virtual track cycling, you can follow your favorite sport every single day. The graphics and designs are so great that you sometimes can't tell the difference between the virtual game and the real race. The loud audience and commentators' voices are giving it even more authenticity. But most importantly, you can place daily bets, even 20 times for an hour, because races run every three minutes.

Some people would say virtual cycling is perfect for betting enthusiasts, but not for genuine cycling lovers. When you look at the new trends, it's clear that they have made the sport more accessible throughout the whole year. Furthermore, all simulations are legal and done via the controlled software that authentically and fairly resembles this discipline. In the end, betting on virtual cycling gives everyone an equal chance of winning, and it's up to you to decide whether or not to try it.