Any avid cyclist will sooner or later decide to travel a long distance on their bike. Traveling by bike can be exciting and fun but if you want to do it right you need to know how to prepare properly before the adventure begins. To many people, this type of traveling might seem like an impossible task, but with a few simple rules, you can have the best on-the-road adventure of your lifetime.
Get A Proper Bike
Think about the road that you will take while you travel. And unless you plan on going off-the-beaten-track, then pretty much any bike will do. On the other hand, better bikes will provide you with more comfort and greater enjoyment. If you only have a racing model, then you should know that they too can be used for traveling, as long as you keep your load light and stay on the concrete roads.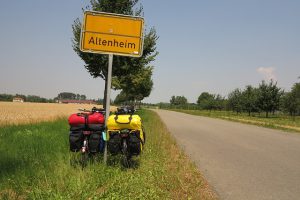 Picking A Destination
It goes without saying that you should always visit places that you haven't been to before. But if this is your first adventure on a bike, then you should opt for a place that isn't that far away and that is also populated. You should always be able to get help if anything goes wrong and especially on your first try, so you won't get disappointed in the idea of traveling this way.
Plan Your Route
Nowadays, we rely too much on GPS technology and Google Maps. But it can happen that you lose Internet connection or that your battery goes empty. So, in this case, you must know your route and have it mapped in your head. Buy a map (yes, you can still get those) or print one and mark your route so you'll always know if you're headed in the right direction. If any road seems unfamiliar, try looking it up online to check if you can go that way, so you don't have to change directions at the last minute.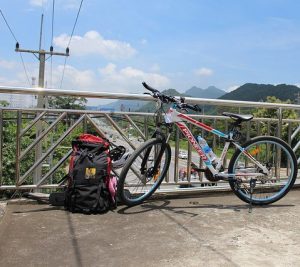 Think About The Necessary Things To Put In Your Backpack
No matter which bike you decide to take, it's important to keep your load light and simple. This means packing only what's necessary. Traveling by bike isn't a great option for those who like to carry several pairs of shoes or suits in their suitcase, but it doesn't mean that you can't pack anything. Several clothing items, another pair of shoes, some high-protein snacks, and things that you use on a daily basis like a phone charger are a must. Also, your personal documents like ID, passport, and credit cards or cash should always be with you.
Have Your Safety Gear With You
Safety gear should be used even if you are riding a bike around town or in a short ride in nature. Therefore, safety equipment like helmets, gloves, and glasses are crucial if you decide to travel by cycling. Also, remember to check your reflectors and lights, since you'll be spending a lot of time on the road.