As you doubt already know, para-cycling, or paracycling, is a form of adapted cycling for athletes that have suffered injuries or have other disabilities. The sport has been recognized not only by the Olympic Committee but also by many people who like to bet on cycling, using promotions like the 10bet Welcome Bonus.
The athletes are classified into 14 different groups based on their disability, though the race types can be boiled down to 4 categories: cycling, handbike, tricycle, and tandem races. Let's take a look at the most famous para-cyclists in the world.
Alex Zanardi
When it comes to para-cycling, few names are as well-known as the former F-1 racer, Alessandro Zanardi.
His career in para-cycling started after a crash in 2001 at EuroSpeedway Lausitz during one of the CART races. He lost both his legs and could have died on the track, but he was quickly rescued by his medical team.
Zanardi was eager to get back into sports and tried his luck at hand-cycling in 2007 when he won fourth place in the New York City Marathon in that division after merely a month of preparing.
Four years later, he returned and won gold. He has made a name for himself in the world of hand-cycling and triathlons. He won several medals and even broke the Ironman world record in a competition in Italy.
Unfortunately, at the time of writing, Zanardi is in a coma from another racing accident. We wish him a quick recovery.
Sarah Storey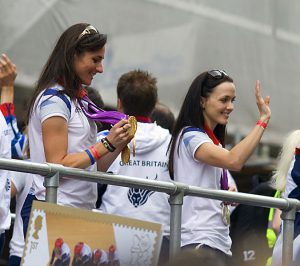 The most successful Paralympian in Britain, Dame Sara Joanne Storey was a remarkable swimmer before switching to para-cycling.
As a swimmer, she won 6 medals, three of which were gold, in Barcelona in 1992. For her accomplishments, she was knighted several times and is, at the time of writing, holding the title of Dame Commander of the Order of the British Empire.
Out of 11 world records she managed to break, 9 were in 3000m Individual Pursuit (LC 1).
The remarkable thing is that she set her first record in 2005 with 4'01″140 and broke each subsequent one up until 2014 when she finished with 3'32″050.
If there is an athlete Britain can be proud of, it is Dame Sarah Storey.
Lauren Parker
Last, but not least, is the favorite for the Tokyo 2020 Paralympics – Lauren Parker. The Australian triathlete suffered an accident that broke her ribs, pelvis, and shoulder blade, punctured her lung, and severely damaged her spine. She refused to give up and moved on to the paratriathlon. Trained by Brad Fernley, she managed to be among the best in the discipline. On her forearm, there is a tattoo which says: Kia Kaha. It is a Maori phrase that means 'stay strong'. It is easy to see how she embodies that motto.